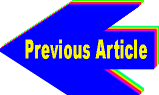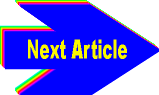 Wellness eJournal™
21st Century Wellness eLetter™ .. Complementary Healing eGuide ™ .. Wellness eJournal™
CompWellness Network Members List .. Resources with Links .. Products .. CompWellness Home Page
Notices: Disclaimer, Copyright © 2000-2012, CompWellness Network, Fairfield NJ USA, Colorado Non-Profit, Trade Names, Cross-Linkages, Acknowledgments, Additional Resources and Members
Wellness eJournal Articles Listing
Places:
Hawai'i - October 31, 2000
by Kenton H Johnson, Publisher, and Director of 2012 CompWellness Legacy Site
and Josephine Hehnke, Owner of Go-with-Jo Travel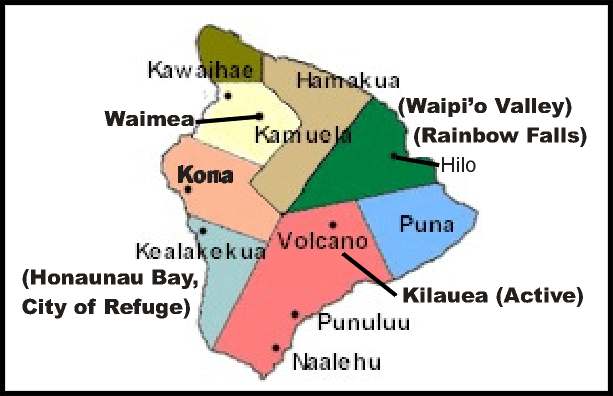 My parents, Lee and Olin Johnson, invited us to meet them on the Big Island of Hawai'i for their 54th wedding anniversary week. Jo and I readily agreed to go. The island is a wonderful juxtaposition of the stark black lava flows and the beautiful vegetation and community that has grown on this volcanic island - the youngest of the major islands.
Complementary Healthcare, by Kenton H Johnson
The CompWellness Network membership responded in fine form to a call for recommendations for practitioners and businesses to see. With this intention, we also "stumbled" on two other exciting resources while searching for touring the island.
Our first find was on a self-guided tour of the northern part of the island in the town of Waimea (Kamuela), the headquarters of the massive and historic Parker Ranch. While checking messages at the end of the shopping area, I noticed a small sign announcing Internet Health Research - Health Maps. Inquiring in what is labeled Tutu's House, I was very pleased to find the Executive Director, Susan Maddox, of the non-profit, Friends of the Future overseeing not only this very active community health information and Internet center, but the Five Mountain Medical Community.
Tutu's House is a superior model for Complementary Healthcare in the community. I invite you to view their website and extensive calendar to see what is possible in a community center. Their Internet classes on use and researching healthcare options is a very effective way to spread the good word.
The Five Mountain organization's mission is to "combine leading-edge medical technology with the ancient wisdom of the world's healing traditions to create a model for health in the twenty-first century." One of the premises is "the belief of many ancestors, residents and visitors that the Island of Hawai'i is a special place of healing." Their President, Earl E Bakken, is "the inventor of the first wearable, external, battery-powered transistorized pacemaker [who has a deep] commitment to holistic health stem[ming] from his own observation of patients using pacemakers."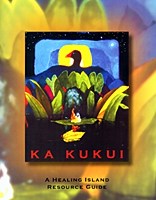 Five Mountain also produces a valuable directory of 350 services and activities, "Ka Kukui: The Healing Island Resource Guide," which includes both practitioners and businesses. It is a must for anyone interested in their wellness who is traveling to the island. Contact them for a copy by email, at the website or (808)887-1280. A new one will be issued this January.
From a lead by a friend of our local Sina Center, we made contact with Dane Kaohelani Silva, a Chiropractor, Massage Therapist and Native Hawaiian Practitioner. We talked on the Black Sands Beach in Hilo during a break in a three-week workshop. He had students from the Hawaiian Islands, England, New England, Japan and elsewhere. All were working together to repair a traditional Hawaiian sailboat before taking her out to sea. He explained that he will soon be organizing the LomiLomi Massage Association and other groups into a strong cooperative association to more quickly further the effects of Complementary Healthcare throughout the islands. I committed to assist him based on our progress and aspirations in Colorado and Louisiana.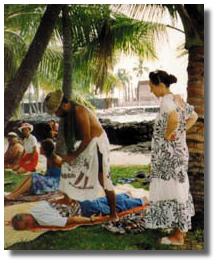 Dr Silva practices in both Pahoa, south of Hilo up the road from the active volcano, as well as Los Altos, south of San Francisco, in the foothills. In Hawaii, he and his team of international instructors teach http://haleola.com/ Long Life LomiLomi Intensive Workshops featuring Hawaiian LomiLomi Massage and the native Hawaiian healing arts that accompany it, at his Hawaiian Healing Center. The website includes a description of LomiLomi and other modalities and concepts in his workshops.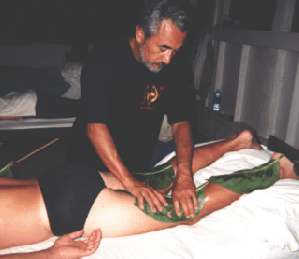 In Los Altos, he practices all his modalities, leading with Chiropractic and integrating Chi Gong, Sports Massage and Training. His website is very complete, including background information on his therapies, a schedule of visitation fees and a ten-visit Wellness Program.
Contact Dr Silva by email, at the website or (808)965-8917 in HI or (650)965-4814 in CA.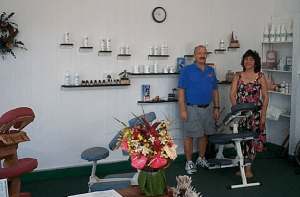 Before meeting with Dr Silva, we were looking for the Hilo Visitor's Bureau and again "stumbled" on another find, the Big Island Academy of Massage. It is owned by Nancy S. Kahalewai, a State-Certified Instructor and Therapeutic Massage/Bodyworker, Reflexologist, Anatomy instructors, and avid motorcyclist. The school offers a range of cirriculum and a pleasant atmosphere, as well as State Pre-licensing Classes good towards Hawaiian or National certification.
She is also the Author of Hawaiian Lomilomi - Big Island Massage. With accolades from Dr Silva and high interest from our members to review the book, it would be a good investment for anyone interested in Hawaiian massage or LomiLomi specifically. See the complete review in the nest newsletter.
Contact Nancy by email, at the website or (808)968-8100.
On the return from Hilo, I dropped Jo off at the Honokaa where we would meet again to see the enchanted Waipio Valley Lookout. I then met with another excellent recommendation, this time from the McClellans at Earth Mother Awareness in Folsom LA.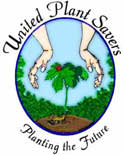 Robert Lieberman, NMD is the Executive Director of the international United Plant Savers organization. Its mission is to "protect native medicinal plants of the United States and Canada - their native habitat - ensuring an abundant renewable supply of medicinal plants for generations to come." According to the Dr Lieberman and the Plant Savers' website, "As Herbalism flourishes and winds its way into the "mainstream" of America [and around the world], it is eliciting a unique set of problems and concerns. Where once only a small handful of people [harvested] plants in the wild, ever increasing numbers are now 'heading to the hills.' …This increased usage along with habitat destruction is causing an ever-increasing shortage of plant resources, including some of our most treasured medicinal species." He added that herb farms that supplement wildcrafting are not keeping up with the demand.

Therefore, Plant Savers keep up to date, online lists of At Risk and To Watch plants. Also many members are in the process of "creating sanctuaries on their land to serve as an inspiration and educational resource in their communities," and "creating living greenways of native medicinal plants throughout North America." These sanctuaries are designed to increase public awareness, do onsite research, host internship programs, hold native plant germplasm, generate propagation material for commercial farms and be models for other sanctuaries.
Contact by email,website or call (802)496-7053
The Akash Ayurvedic and Siddha Healing Center. I interviewed the owner, Sharon Forsyth, by phone. She has been "on many journeys to gather knowledge to share. A multitude of healing modalities for body, mind, emotions and spirit have been ingested, processed, embodied and re-presented" in her Center in Kailua-Kona.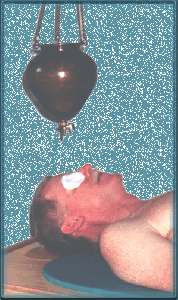 The Centers' extended retreats are Pancha Karma - meaning five actions which are performed on the body in a very specific order. When done properly, they will detoxify and rejuvenate the whole system, bringing youthfulness and strength to the body and calm openness to the mind. The Day Spa features treatments that are "combined to create your individual Pancha Karma Program and others are used as single treatments for maintenance and specific needs."
Sharon is planning to expand her Center early next year. Contact her by email, at the website or (808)331-2276.
Other retreats near Kailua-Kona is Hawaii Adventure Spa and the Hilton Waikoloa Village Spa. See others listed on the Health and Fitness Spas and Retreats section of the Five Mountain website.
Exploring Hawaii: Oahu and Hawai'i, by Jo Hehnke
"That rock is moving," I thought while snorkeling in Honaunau Bay on the Big Island of Hawaii. Quickly realizing the rock was actually a green sea turtle, I gave it a respectful distance while still being fascinated at being so close to such a magnificent creature. Learn about our snorkeling adventures near the end of this article.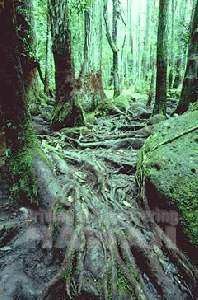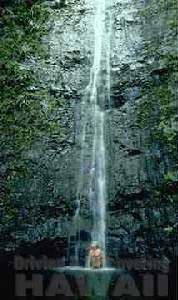 Lee and Olin's timeshare week on the Big Island of Hawaii starts on Monday, which gave us the opportunity for some time on Oahu before meeting them. We arrived on Saturday, had lunch, checked into our hotel then departed to Lyon Arboretum to find the trailhead for Manoa Falls. This hiking trail came from the book, Frommers Honolulu, Waikiki and Oahu, 6th Edition, by Jeanette Foster and Jacelyn Fujii (McMillan Travel).
After hiking through lush vegetation for about an hour we arrived at the falls and the pool it creates. The cool water felt wonderful. Our time at the falls was short, since the sun was starting to set.
Sunday, we took a scenic drive through the middle of the island, stopping at the Nuuanu Pali Lookout then continuing round to Hanama Bay, finally stopping at Diamond Head Crater. The hike up Diamond Head was totally different, dry landscape and hot weather. The hardest part of the hike, was the 99 steps towards the end but we made it and were rewarded with a fantastic view of Waikiki.
On the way back down, we met up with some women and their children, who advised us they were part of the Mothers Club, they graciously posed for a picture.
Monday, we had a short flight to the big island of Hawaii where we met Kent's parents at the Kona airport, picked up our rental car and took off for the condo. Tuesday, we took a scenic drive up the Gold Coast, seeing graffiti, Hawaiian style along the way. There were fields of black lava with names, greetings, etc. spelled out in white coral rock. The book, Scenic Driving Hawaii, by Richard McMahon (Falcon Press Publishing) helped us to find both the optimum drive and guided us through the tour.
We stopped in Kapaau to see the original statue of King Kamehameha, who is credited with uniting all the Hawaiian islands. Continuing on we came to the town of Waimea. There we visited the Parker Ranch shopping area then drove up the road for a delicious supper at the Edelweiss Restaurant.
Wednesday, Kent had set up an appointment in Hilo on the other side of the island. Another self-guided drive took us to the south of the Mauna Kea to Hilo then back around the northern side with a beautiful stop along the way.
While Kent was visiting with Dane Silva on the beach, I took a self-guided walking tour of downtown Hilo, ending up at the farmers market, where I found a beautiful bouquet of flowers for a mere $5. I purchased the bouquet for Lee and Olin's anniversary and took off to the beach to find Kent. On our return trip, Kent dropped me off in Honokaa while he went to another appointment. After his return and a quick lunch at the local café, we drove over to the beautiful enchanted Waipi'o Valley Lookout, once home to 40,000 Hawaiians which was the cultural and political hub of the island.
Returning to Kona, we took Lee and Olin to the King Kamehameha Kona Beach Resort for a sumptuous anniversary supper next to their exotic Luau arena.
Thursday, the four of us went on a circle tour of the island, stopping first at a coffee factory then on to the Place of Refuge National Park, Puuhonua O Honaunau. When ancient Hawaiians broke kapu (sacred law) or were fleeing an enemy in times of war, their only escape was to run and/or swim to the nearest puuhonua (place of refuge), where they were exonerated by a kahuna pule (priest).
Our next major destination was Volcanoes National Park, where we spent a couple of hours viewing craters, having lunch and taking photos. Next, we stopped at the Thurston lava tube which we all had a chance to walk through.
Then came, at least for me, the highlight of the tour, Rainbow Falls. We continued around the island stopping for malasadas (fried sweet roll with or without filling).
Here Kent met Moki, a drummer, who was dressed in the royal Hawaiian colors of red and yellow.
Friday, Kent and I snorkeled at Honaunau Bay, next to the City of Refuge, where we encountered green sea turtles each in separate locations. Saturday, after a second snorkeling trip and a final shopping trip for Kona coffee and souvenirs, we drove up the coast on HI 19 to the Hilton Waikoloa Village where we rode the tram and the boat around the grounds.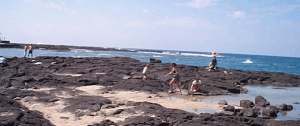 At 5:30 pm, it was time to drive to the airport for our evening flight, we bid a fond aloha to Lee and Olin before boarding our Hawaiian Airlines flight to start the long journey home via Honolulu and Los Angeles.

Please forward this article to Friends and Associates
ONE-CLICK REGISTER for your FREE, monthly 21st Century Wellness eLetter summarizing New eJournal articles and eGuide Chapters

21st Century Wellness eLetter™ .. Complementary Healing eGuide ™ .. Wellness eJournal™
CompWellness Network Members List .. Resources with Links .. Products .. CompWellness Home Page
Notices: Disclaimer, Copyleft © 2000, Colorado Non-Profit, Trade Names, Cross-Linkages, Acknowledgments, Additional Resources and Members
You are wise and generous to visit our Members and Sponsors <<< Click here or the following Sponsors:
Make your face fresh, young, strong, healthy & more beautiful every day .. Denver's Bio-Cranial/Chiropractic Leader .. Bio SuperFood Headquarters .. Save on Amazon's New & Used Consumer Products

Visitors since 5/1/1999.

*Our 1-302-586-8665 health information service is free for the first 5 minutes, then 99 cents per minute on major credit card*

Please report all errors to the CompWellness WebMaster. Thank you.