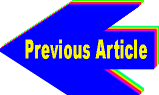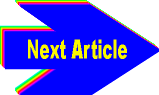 Wellness eJournal™
21st Century Wellness eLetter™ .. Complementary Healing eGuide ™ .. Wellness eJournal™
CompWellness Network Members List .. Resources with Links .. Products .. CompWellness Home Page
Notices: Disclaimer, Copyright © 2000-2012, CompWellness Network, Fairfield NJ USA, Colorado Non-Profit, Trade Names, Cross-Linkages, Acknowledgments, Additional Resources and Members
Wellness eJournal Articles Listing
Places:
New Orleans, Louisiana - September 30, 2000
by Kenton H Johnson, Publisher, and Director of 2012 CompWellness Legacy Site
and Josephine Hehnke, Owner of Go-with-Jo Travel
A new Complementary Healing Guide was about to be printed in the New Orleans, with a launch scheduled at the University of New Orleans campus on Saturday evening, September 23rd. We combined this celebration with some research and sightseeing.
Complementary Healthcare, by Kenton H Johnson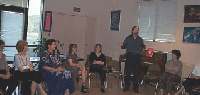 Peggy Verret, the local publisher of this Guide, led enthusiastic networking and facilitated a discussion of the many methods of furthering CompWellness Network education. We confirmed several appointments she had set up with area practitioners for Monday, while she and my partner Jo were to continue sightseeing as Jo reports below.
I was impressed with both the area's professional quality and the reasonable facility pricing - the latter quite unexpected for such a popular tourist spot.
My first stop was just over New Orleans' famous Lake Pontchartrain bridge to the "Northshore" at The Body Works Center. This healing and education center is the creation of Ellen LaRocca, a 20-year holistic veteran who began in Macrobiotics, Neuromuscular Therapy and Craniosacral Therapy, integrating many other modalities into her bodywork, including Aromatherapy. Via some certification with Deepak Chopra in Primordial Sound Meditation, she is focusing her current studies on Ayurveda.
Ellen has surrounded herself with superior practitioners in Chinese Medicine, Jungian Psychotherapy, Holistic Counseling, Yoga, Breathwork, T'ai Chi, Life Coaching, and cooking to name only a few of their modalities.
For a wide view of many practices, books, supplies, classes and a wonderfully warm atmosphere, make The Body Works Center one of your first visits.
Call ahead for a list of their classes and workshops: (504)626-4705.
From there, I drove further north along Northshore's scenic winding roads and small villages to the Four Winds Foundation. A workshop and healing center, Four Winds provides a soothing, wooded retreat for bodywork, flotation tank relaxation or group activities: workshops, ropes course challenge or other creative experiences organized by your team or the Foundation's team.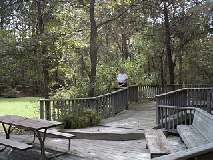 Leading the Foundation are the Co-Founders: Jon Maxwell an NLP practitioner, MBA and 20-year owner/manager of such businesses as a natural food retailer; and Virginia Davis, RN, LMT, Pilates instructor and Yoga teacher. Their Administrator, Diane Casteel, LMT, is also an accomplished business manager, Feng Shui consultant and teacher of many bodywork and movement modalities.
Contact the Foundation for a brochure and schedule of public workshops at: (504)845-0549.
From Four Winds I continued deeper into the enticing vegetation to a retreat along a state Scenic River, Little River Bluffs. A small lake, two secluded cabins, a chalet and an expanding lodge are all nestled into the woods along the Little Tchefuntce River, relatively isolated from each other.
The owner and developer, David Campbell, has been pursuing his dream for years, starting with only a tent next to what is now his home that he is continuing to build into the central lodge. Each facility is unique and offers everything from a family getaway to a small conference facility. We talked about various possibilities, which all seemed very alluring and highly affordable for any group prepared to venture away from their own personal facilities.
For more information call (504)796-5257 or visit LittleRiverBluffs.com after its reconstruction is complete later in October.
On another part of the Littel River Bluffs' grounds is the Native American School Earth Mother Awareness. For the past 20 years, Bob McClellan - better known as Medicine Hawk - has been a student, an apprentice, a practicing teacher and scholar in the ways of native people. Mary Ann McClellan manages the reservations for Little River Bluffs and is also accomplished in Native Plant Studies - for eating, medicine and utilitarian purposes.
Medicine Hawk leads Vision Quests on the property, which are four-day enlightening and stoic experiences that have evolved by indigenous societies world wide, to derive inspiration from one's inner vision. Two days of preparation and a day of re-entry into the company of others completes a week that pushes the limits of body, mind, emotions and spirit.
Contact them at (504)796-3356.
Returning to The Body Works Center, I met up with Peggy and Jo to bid Peggy a fond farewell, then Jo and I headed over the lake to Integrative Medical Services.
Ms Claudia Thurman, Clinical Director, explained their primary goal: "To facilitate your optimal well-being." They accomplish this by utilizing information, diagnostic techniques and procedures offered by both Western (allopathic) and Eastern Medical paradigms - the best of both worlds which they call to call Integrative Medicine.
Because they believe that each individual is responsible for his or her own health, education has a high priority at the center. They counsel each client individually concerning his or her own specific condition(s): nutritional choices, exercise, stress reduction, energy and spiritual awareness. Their services include: Wellness and Preventive Medicine, Risk Factor Assessment, Natural Hormone Replacement, Chelation Therapy, Acupuncture, Chiropractic.
Contact them at (504)796-3356 or vist their recently re-constructed website - IntegrativeMedical.com.
Exploring New Orleans, by Jo Hehnke
Twelve o'clock at the Community Coffeehouse, no tour, no Peggy - where did I go wrong? It was the first miscue in our combination business/pleasure trip to New Orleans. We had departed Denver on Saturday just as the first snowstorm of the year was developing, arriving in New Orleans that afternoon to temperatures in the high 80s and 90% humidity.
Celebration was the name of the game for the weekend. In addition to the launch of the New Orleans Complementary Healing Guide that Kent mentioned above, we were also celebrating our birthdays - Kent's on the 21st of September and mine on the 24th.
After picking up our rental car, we drove to the city to check into our hotel then off to a gathering of New Orleans area practitioners, also mentioned above. Afterwards, while exploring the French Quarter, we spotted a "crime catcher" fish outside police headquarters, and were advised the city was having a Festival of Fins. One hundred fish were given to various artists throughout the city to decorate as they wished. This made for some great photo ops.
Sunday began with a gospel brunch at the House of Blues, then over to the Jax Brewery to meet up with Peggy to go on a walking tour of the French Quarter. The oldest building in New Orleans was included in the tour, the Ursuline Convent. Kent envied the wonderful herb garden which is cultivated by a local chef.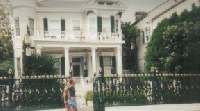 While walking through the French Quarter, we came upon the delightful Cornstalk Fence Hotel.
The highlight of the evening was the jazz dinner cruise on the Steamboat Natchez where we ran into two ladies from Australia we had meet on the walking tour.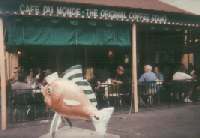 Monday, Kent and I went our separate ways, he to individual meetings Peggy had set up with practitioners, and I over to the Café du Monde for beignets (pronounced ben yays) and café au lait. After coffee, I proceeded to the Community Coffeehouse on Jackson Square where I was to meet Peggy for a cemetery/voodoo walking tour at noon. Twelve o'clock rolled around, but no Peggy and no tour. It finally occurred to me there might be more than one Community Coffeehouse. Upon inquiry at the counter, the wait staff advised that yes there is another coffeehouse approximately five blocks away.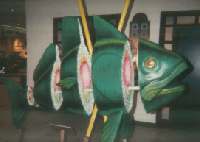 The tour had already departed from the second coffeehouse, but no Peggy there either. Thank goodness for cell phones - both Peggy and I were able to reach Kent, but not each other. Through Kent, I found out that Peggy was having car trouble and would be along as soon as possible. This gave me time to photograph the Sushi Fish at Jax Brewery and then meet her at Gray Line Tours we were able to connect with the walking tour of the Garden District.
The Garden District is the posh area of town with many gorgeous homes with each surrounded by beautiful wrought iron. It boasts the best restaurant in America, the Commanders Palace, and is the home of author Ann Rice.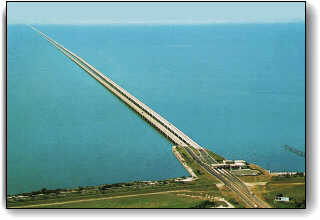 After the tour, Peggy transported me over Lake Pontchartrain, crossing the longest bridge in the world - at 27 miles. We met Kent at the Body Works Center, had a quick bite to eat, then back over the bridge. We stopped in Metairie for a final appointment, then made a mad dash to the airport to catch our flight.
Too much to do; too much to see. The swamps and plantations will have to wait for the next visit.

Please forward this article to Friends and Associates
ONE-CLICK REGISTER for your FREE, monthly 21st Century Wellness eLetter summarizing New eJournal articles and eGuide Chapters

21st Century Wellness eLetter™ .. Complementary Healing eGuide ™ .. Wellness eJournal™
CompWellness Network Members List .. Resources with Links .. Products .. CompWellness Home Page
Notices: Disclaimer, Copyright © 2000-2012, CompWellness Network, Fairfield NJ USA, Colorado Non-Profit, Trade Names, Cross-Linkages, Acknowledgments, Additional Resources and Members
You are wise and generous to visit our Members and Sponsors <<< Click here or the following Sponsors:
Make your face fresh, young, strong, healthy & more beautiful every day .. Denver's Bio-Cranial/Chiropractic Leader .. Bio SuperFood Headquarters .. Save on Amazon's New & Used Consumer Products

Visitors since 5/1/1999.

*Our 1-302-586-8665 health information service is free for the first 5 minutes, then 99 cents per minute on major credit card*

Please report all errors to the CompWellness WebMaster. Thank you.