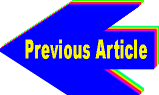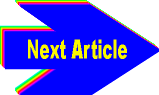 Wellness eJournal™
21st Century Wellness eLetter™ .. Complementary Healing eGuide ™ .. Wellness eJournal™
CompWellness Network Members List .. Resources with Links .. Products .. CompWellness Home Page
Notices: Disclaimer, Copyright © 2000-2012, CompWellness Network, Fairfield NJ USA, Colorado Non-Profit, Trade Names, Cross-Linkages, Acknowledgments, Additional Resources and Members
Wellness eJournal Articles Listing
Places:
Virginia Beach, Virginia – May 31, 2000
by Kenton H Johnson, Publisher, and Director of 2012 CompWellness Legacy Site
and Josephine Hehnke, Owner of Go-with-Jo Travel
We chose to visit and explore Virginia Beach for three reasons: to introduce our daughter-in-law and grandson to the ocean from which all physical life has sprung, to learn about the area around Chesapeake Bay, and to go someplace we hadn't been. It turned out wonderfully, and the surprises were all very pleasant.
Complementary Healthcare, by Kenton H Johnson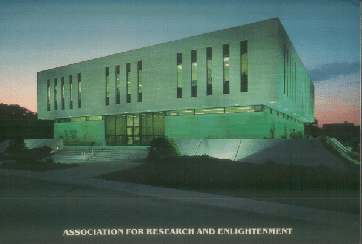 My first visit – and my suggestion for your first stop – was to the Association for Research and Enlightenment (ARE) "is the international headquarters of the work of Edgar Cayce, considered the most documented psychic of all time." My interest in Cayce is his 1,000's of recommendations for health remedies, many formulated and sold today.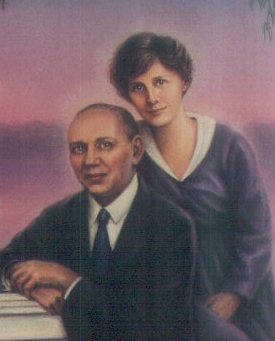 The page, Edgar Cayce (1877-1945) by ARE, reports "Edgar Cayce was born on a farm near Hopkinsville, Kentucky. At an early age he gave evidence of his budding talent – he was able to master his school lessons by sleeping on his books. At the age of twenty-one he developed a gradual throat paralysis which threatened the loss of his voice. When doctors were unable to find a cause for his condition, Cayce entered the same hypnotic sleep that had enabled him to learn his school lessons years before. In that state, he was able to recommend a cure which successfully repaired his throat muscles and restored his voice. It was soon discovered that he could do the same for others.
"Cayce would eventually give over 14,000 readings on more than 10,000 different topics to people all over the world. These readings continue to be researched and written about over half a century after his death and are available to students, writers, researchers, medical professionals, and ARE members the world over.
The main site continues, "founded in 1931 to preserve, research and make available insights from Cayce's information, the ARE is a non-profit organization which sponsors activities, services, and outreach throughout the world. Many people contact them for information or research on a specific topic, only to discover that the Cayce readings explored more than 10,000 subjects."
"Through research projects, books published by the ARE Press, monthly publications, and conferences around the country, the organization explores a wide variety of fascinating subjects, such as health and healing, meditation, dream interpretation and earth changes.

"ARE Regional offices exist throughout North America and international communities. ... Wherever you live, members and friends have the opportunity to join one of hundreds of study groups which meet regularly in your community. These groups discuss practical ways in which to apply in greater depth the spiritual material in the readings. Periodic conferences, workshops, and lectures on a variety of topics are offered as well as home-research projects, informative mailings, membership materials, and their regular publication Venture Inward. All of these are designed to allow an open discussion of the material contained in the readings and to provide contact with some of ARE's finest resource people.
Location: 215 67th St., Virginia Beach VA 23451, (757)428-3588 or (US/Canada) 800-333-4499, email.
Click over to the site for more information on Cayce and the ARE.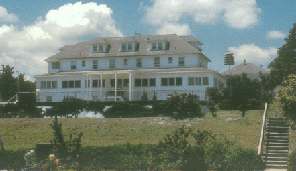 At the same location and phone numbers is the Cayce/Reilly School of Massotherapy (CRSM), Dwight Zieman, Director. I had a nice conversation with Dwight, a graduate of the school. He explained, as also described on their website, "the school exists to provide a holistic learning environment for students of massage therapy. The unique curriculum puts a focus on personal transformation, with the understanding that the only way to truly heal is to be healed. Students are given a sound foundation in basic Swedish-style massage, as developed by Dr Harold J. Reilly and as suggested in the Edgar Cayce readings, as well as a variety of contemporary massage techniques.
"The expected outcome is a professionally trained, well-grounded, and spiritually sensitive massage therapist who has a commitment to healing self and facilitating healing in others.
"The educational objective of the Cayce/Reilly School's 600-hour program in massage therapy is to provide training in both the theory and hands-on practice of massage therapy.
"Technical aspects of massage are balanced by a well-planned holistic program based on the philosophy of healing as found in the Edgar Cayce readings.
"The origin of the Cayce/Reilly School lies in the Association for Research and Enlightenment's therapy department, founded in 1967 by Hugh Lynn Cayce and Dr Harold Reilly, a well-known New York physiotherapist. Dr Reilly developed the Cayce/Reilly massage by combining his personal techniques with the inspired methods recommended in the Edgar Cayce readings." During several summers, he moved his practice to Virginia Beach.
CRSM "views massage as a valuable and positive force that promotes health and supports personal growth, professional fulfillment, and spiritual awareness in the world.
"The program of CRSM is the first massage/bodywork training school in Virginia to receive accreditation by the Commission on Massage Training Accreditation/Approval (COMTAA)."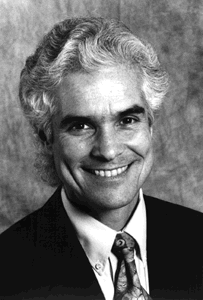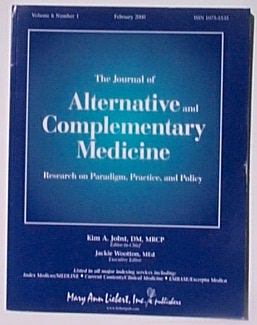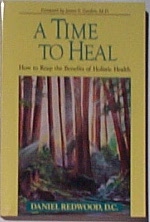 I had a wonderful visit with ARE-recommended practitioner Daniel Redwood, DC (email). He is a Chiropractor, Physician Acupuncturist and writer. His practice also includes Nutritional consultation. Among other works, he has authored A Time to Heal: How to Reap the Benefits of Holistic Health (ARE Press, 1993) and Contemporary Chiropractic (Churchill Livingstone, 1997).
Dr Redwood is also Associate Editor and Book Review Editor for The Journal of Alternative and Complementary Medicine, an Editorial Board Member for Integrative Medicine Consult, and a columnist and consultant for WebMD.com.
Location/Contact: 1645 Laskin Road, Suite 103, Virginia Beach VA 23451, (757)491-4888
My recommendation for your next stop is close to the beach and is the largest holistic store in the area – The Heritage Store, owned by Tom Johnson. I chatted with staffer Carole Ann Miller, who explained that 30 years ago Tom researched Edward Cayce's readings in the ARE library and developed some of his recommendations into products that Tom now sells.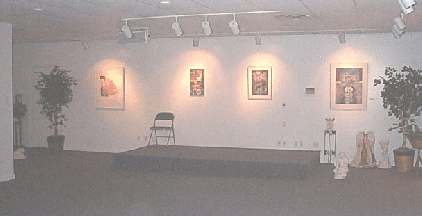 From that time on, the store grew quickly and now has natural foods, a holistic department store, café, bookstore, and in the upper floor, a large holistic health center with Massage, T'ai Chi, Yoga, Meditation, classes and special events.
Location/Contact: 314 Laskin Road, P.O. Box 444-WWW, Virginia Beach VA 23458-0444, (757)428-0100 or (800)862-2923.
The new "Edgar Cayce Remedy Reference," by The Heritage Store, according to the website, "was formerly a slide chart, until it came time to revise and expand. Now it's an even more comprehensive reference guide to recommendations made by Edgar Cayce for common health conditions. Described as the most documented psychic of our time, Cayce was able to speak knowledgeably and accurately on virtually any topic while in a self induced hypnotic state. Most of his over 14,000 discourses, or 'readings,' concerned health and healing, and his emphasis on treating the whole person has aptly earned him the title, 'father of modern holistic medicine.'"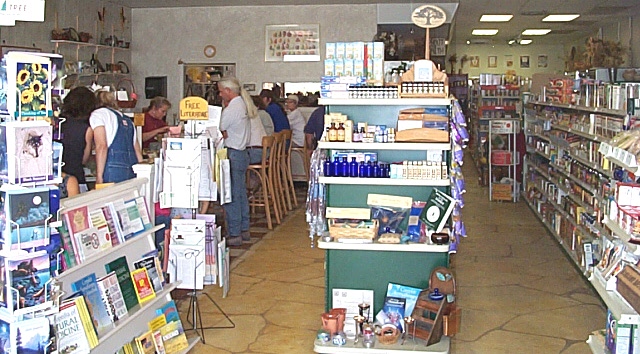 Another healthfood store, Terra Nova, is a little further inland just off Virginia Beach Blvd. The store offers a café, groceries, a newsletter, and a well-stocked bulletin board. It is at 550 First Colonial Road in the Hilltop Square Shopping Center, Virginia Beach NC 23451, (757)425-2583.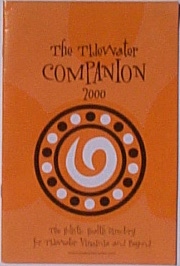 The Tidewater Companion 2000: A Holistic Health Directory and Resource Guide Serving the East Coast of Virginia, by Jus B Community, lists several businesses and practitioners in the area, online and in print.
Ask for a copy at a local healthfood market or holistic bookstore. Click on Jus B Community Contents for other useful resources and information. Contact at (757) 877-8575
My son, Rocky, and I went the local library to main library on Virginia Blvd to check and respond to email. There was only one Internet access computer and it was booked all evening, This is going to change this summer with many more systems about to be installed. We were directed to the local Internet Cafe, WebCity CyberCafe, owned by Jerry Heath. The rates were very reasonable – about $6.50 per hour – the service friendly, and the ambiance conducive to surfing and quiet conversation.
Location/Contact: 116 South Independence Blvd, Virginia Beach VA 23462, (757)490-8690.
On the way back to Baltimore, we stopped in Williamsburg, and picked up a small book at the historic – and still operating – print shop, The Apothecary in Eighteenth Century Williamsburg by Thomas K Ford, the late Editor of Colonial Williamsburg publications (PO Box 1776, Williamsburg VA 23187, 757-229-1000). This 40-page book describes the state of the 18th-Century Apothecaries – the pharmacist. The Physicians of the day had "as much as 14 years training and four degrees from Oxford and Cambridge and were naturally not abundant." Also, Physicians considered compounding medicines and surgical operations as undignified.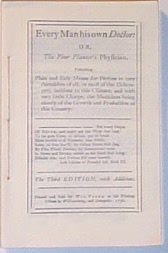 Because of this, Apothecaries – and barbers – stepped in to fill the void. While Apothecaries performed the menial compounding work, barbers performed much of the surgery – amputations, dressing wounds, bleedings and "subjecting patients to the other normal medical practices of the day." Apothecaries sometimes became Surgeon-Apothecaries, doing all the "menial" work. Training for either modality was usually by apprenticeship, with little classroom education.
According to book, "Virginia was the only colony that tried to draw legislative boundaries around the various aspects of medical practice." The 1736 effort addressed modality definitions, fees and documentation, that has interesting parallels to today's medical care costs and paperwork situation. It provided for higher fees for Physicians than the other modalities – often double – and required certain itemizations in the bills. The legislation was repealed the next year.
I also picked up a 1736 text – printed and hand bound by the local press using the methods of that day – called Every Man his own Doctor. It was interesting reading since they used a form of 'f' instead of 's,' and it described about 65 self-care remedies using herbs and honey to deer's dung as well as bleeding to a daily horseback ride. Except for bleeding as part of any remedy – archaic and dangerous – the remedies seemed logical and similar to Herbalists and Naturalists recommendations.
On another trip to the area, we discovered a wonderful sanctuary for your mind, body and soul – National Wildlife Refuges. As some of you may have already discovered, the US Fish and Wildlife Service, in cooperation with other federal and state agencies, has created more than 500 refuges from northern Alaska to the Florida Keys and in a few other US territories, for wildlife that depend on wetlands. Migrating birds, endangered species of many kinds and local wildlife enjoy relatively pollution-free habitats protected from human traffic except for restricted trails and a few roads.
As a result, these serene, almost pristine areas provide virtually unheard of opportunities to observe and be in nature, in a quiet nearly reverent atmosphere, without hiking miles into a forest or wilderness area.
We have enjoyed two on the Deleware-Maryland-Virginia (Delmarva) Peninsula, north of Virginia Beach: Chincoteague on Chincoteague and Assateague Islands VA on the Atlantic, and Blackwater near Cambridge MD on the Chesapeake Bay. In late May, both refuges provided hours of leisurely walks accompanied by soft sounds of birds, slapping waves and jumping fish, and soothed by the sights of lush forests with rabbits and squirrels, marshes with Snowy Egrets poised to spear a fish, shallow mud flats with small birds scurrying to peck insects, and amazingly few mosquitoes or flies.
Contemplation, meditation, communion with nature, reading, sunning, moderte walking or biking, all lend to complete stress relief. Just what your healthcare practitioner may have suggested! And ... you get great photos, minimal motor noises, little if any trash to spoil your view, and only a few steps or bike pumps from your vehicle. We stayed about a half mile from the entrance to Assateague Island in the Refuge Motor Inn so we could walk or bike into the refuge each day.
For more information on Wildlife Refuges, visit US Fish and Wildlife Service National Wildlife Refuges. You can go directly to the Database Query to search for Refuges near you or where you would like to vacation.
Some other lists of holistic resources can be found at:
List of ARE Healthcare Professionals throughout Virginia and the US, found at the ARE Information Desk.
Exploring Virginia Beach, by Jo Hehnke
"The keys are locked in the Tahoe!" Luckily, we were not leaving on our long-anticipated family vacation to Virginia Beach until the next day, so we had time to wait for AAA to rescue us. The entourage – I, Kent, Kent's son Rocky, Rocky's wife Carrie, and their almost two-year-old son Tyler – stayed at the AmeriSuites that night to be closer to the airport, but still had to get up at 3:30 am to catch our 5:30 am departure to Baltimore. Flying into Baltimore allowed us to see more of the sights around Chesapeake Bay.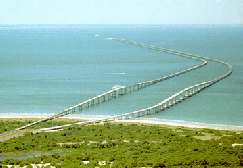 We arrived at Baltimore about 1:00 pm, picked up our rental car, and were on our way. Driving down the Delmarva Peninsula – the East side of the Bay – we crossed the 17.6-mile Chesapeake Bay Bridge Tunnel, one of the "Seven Engineering Wonders of the Modern World." A stop at the gift shop was called for to purchase a few souvenirs then on to Virginia Beach to find the Dolphin Run Condominiums.
The Dolphin Run security guard checked our hot and tired little group in at 8:30 pm. Our unit was beautiful, located on the 13th floor and decorated in an nautical theme with an ocean front balcony – all the units have one. We slept very well that night and awoke to a cooler Mother's Day.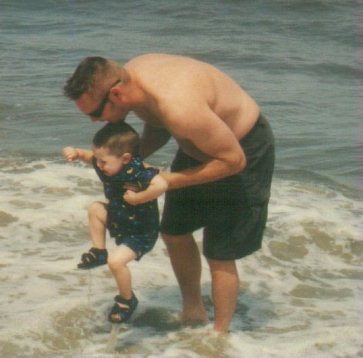 Carrie dipped her toes in the ocean for the first time; Tyler was much more reluctant. We explored a bit of Virginia Beach's three-mile boardwalk that day and ended at the landmark 15th Street Pier for supper. Rocky tried the a soft-shell crab, which were in season.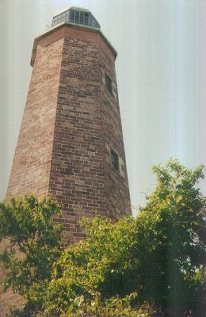 Monday, we dropped Kent off at the Association for Research and Enlightenment (ARE) founded by Edgar Cayce, while the rest of us drove to Cape Henry and saw both the new and old lighthouses and the Battle of the Capes Memorial.
That evening, Rocky and Carrie's celebrated their wedding anniversary at a beach-front restaurant, while we took Tyler for an evening stroll. We stopped to admire the artwork at the end of each block, turtles, fish and blue marlins. On the return we walked back on Atlantic Avenue to check out some of the many stores specializing in beachwear, lawn chairs, sunglasses, shells, t-shirts and other tourist items.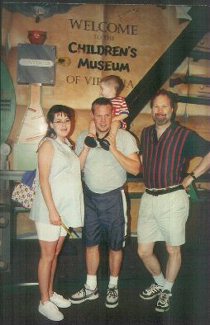 Tuesday was spent at the Virginia Marine Science Museum learning more about Chesapeake Bay, Virginia Beach and its marine life, including a special presentation on jellyfish. Unfortunately, the Museum closed at 5:00 pm, so we returned the next morning to explore the Owls Creek Marsh Pavilion before departing for the Portsmouth's Childrens Museum. At the Museum, Tyler had a great time with the motorcycle, fire truck, model trains and other interactive displays. Adding a mere $1.00 to our ticket allowed us admittance into three others nearby: the Lightship Museum, the Naval Shipyard Museum and the Courthouse Galleries.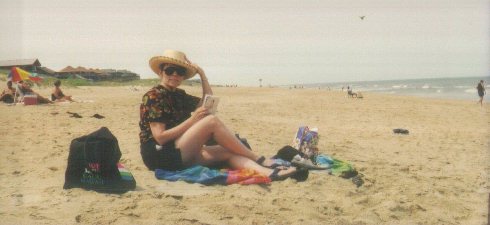 Thursday we made a trip to the Outer Banks, NC to see the lighthouses (though most are open only in the summer) and the natural 76-mile arc created by a peninsula and several islands. Stopping at the Visitors Information Center to pick up brochures, we found that nearby Kill Devil Hills is the location of the Wright Brothers Memorial. We did not have enough time to continue to Cape Hattaras – that will have be another trip. On the return, we stopped at the Austin Fish Market to pick up soft shell crabs, crab cakes and various seasonings mixes for supper at the condo.
Friday, after spending a lazy morning at the beach, we took the two-hour ocean cruise from the Virginia Beach Fishing Center to Cape Henry. That evening we dined at Rudee's on the Inlet where they had the best crab cakes of the trip. Tyler looked adorable – his outfit had a little bow tie – the staff made quite a fuss over him which he ate up.
Saturday, time to depart came all too soon. We took the inland route back to Baltimore, stopping at Williamsburg along the way for lunch and a few photos in the Colonial District.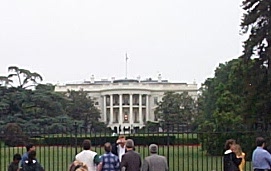 We overshot our turn to Alexandria ending up in Washington DC, so we drove by the White House and the Washington Monument. Then back to Alexandria, where we stayed at the Radisson which had a nice view of the Potomac.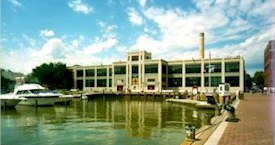 That evening, Kent and I strolled around Old Town Alexandria checking out the Torpedo Factory Art Gallery and the waterfront. We returned the next day for a scrumptious $3.00 breakfast.
Sunday, we departed for the airport at 11:30 am, checked the car in, made sure we had enough souvenirs. The good news was our flight did not depart until 1:35 pm so we weren't crabby.
Another useful website: Virginia Beach Visitor Information Center

Please forward this article to Friends and Associates
ONE-CLICK REGISTER for your FREE, monthly 21st Century Wellness eLetter summarizing New eJournal articles and eGuide Chapters

21st Century Wellness eLetter™ .. Complementary Healing eGuide ™ .. Wellness eJournal™
CompWellness Network Members List .. Resources with Links .. Products .. CompWellness Home Page
Notices: Disclaimer, Copyright © 2000-2012, CompWellness Network, Fairfield NJ USA, Colorado Non-Profit, Trade Names, Cross-Linkages, Acknowledgments, Additional Resources and Members
You are wise and generous to visit our Members and Sponsors <<< Click here or the following Sponsors:
Make your face fresh, young, strong, healthy & more beautiful every day .. Denver's Bio-Cranial/Chiropractic Leader .. Bio SuperFood Headquarters .. Save on Amazon's New & Used Consumer Products

Visitors since 5/1/1999.

*Our 1-302-586-8665 health information service is free for the first 5 minutes, then 99 cents per minute on major credit card*

Please report all errors to the CompWellness WebMaster. Thank you.