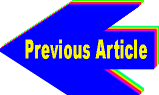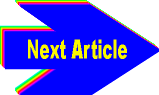 Wellness eJournal

™

21st Century Wellness eLetter™ .. Complementary Healing eGuide™ .. Wellness eJournal™
CompWellness Network Members List .. Resources with Links .. Products .. CompWellness Home Page
Notices: Disclaimer, Copyright &copy 2012, Trade Names, Cross-Linkages, Acknowledgments, Terms and Conditions of Service, Additional Resources and Members
Wellness eJournal Articles Listing
Places:
St Augustine, Florida

– January 31, 2000
by Kenton H Johnson, Publisher, and Director of 2012 CompWellness Legacy Site
and Josephine Hehnke, Owner of Go-with-Jo Travel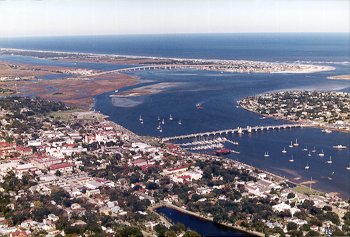 St. Augustine, the oldest city in the United States, was founded by a Spanish admiral. The city boasts the oldest house, the Gonzalez-Alvarez House, a claim similar to Santa Fe NM explored in last year's November 26th "Places" article. It is located in northeast Florida, between the Atlantic Ocean and the Intercoastal Waterway.

Complementary Healthcare,

by Kenton H Johnson

St Augustine is not a large town – only 12,000 population – but the complementary healthcare organizations are strong and growing, attracting both clients and attention from neighboring Jacksonville (650,000), Florida and beyond. One of the reasons is Laurence Layne, who manages a clinic, school and a directory.

Larry Layne's Organizations
We visited with multi-talented holistic practitioner, Laurence Layne, in his quiet Healing Waters Clinic, north of St Augustine. He has worked with other organizations, such as the International Association of Healthcare Practitioners (IAHP) in Palm Beach Gardens FL, Associated Bodywork & Massage Professionals (ABMP) in Evergreen CO, and the American Massage Therapy Association (AMTA) in Evanston IL to help expand the holistic healthcare model, and encourages medical practitioners to adapt to this model. His clinic provides an example of several modalities working together, with six primary practitioners and several other associated practitioners.
The clinic offers "healing for the body, mind and spirit." Its programs include: Weight Loss and Management, Detoxification and Cleansing, Cancer Support, TMJ and Scoliosis, Chronic Fatigue and Fibromyalgia Care, Infants and Children, Pregnancy Massage, Pain Relief and Rehabilitation, Stress Reduction, Psychotherapy, Support Classes in Attunement, Natural Healing and Herbs.
The clinic's 30 modalities range from Massage Therapies and Craniosacral Balancing through Nutritional Counseling and Postural Integration to Eastern energy work and East-West Herbalism. The clinic supports an Herbal Pharmacy including nearly 200 bulk herbs, natural healing and herbalists supplies, Chinese herbs, Ayurvedic herbs and Chinese patent remedies.
Sister organizations to the Clinic, managed by Mr Layne, are:
Mr Layne and his organizations are also affiliated with the Jacksonville-based Mind/Body Institute offering seminars on Feng Shui, Iridology, Homeopathy, Herbology, Nutrition, Guided Imagery, Thought Field Therapy, Therapeutic/Healing Touch, Holistic Nursing and Osteopathic Medicine.a
For more information, contact Laurence Layne, LMT, Herbalist or the Clinic's Nutritional Consultant, Jackie Shank, MS, RD, LD/N, or the overall website linking to all the organizations.
Avalon: Bed, Breakfast and Bodywork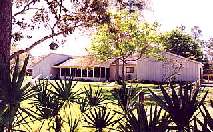 We also had an enjoyable visit to Avalon, a "bed and breakfast retreat in a quiet and peaceful country setting." The owners, Ginny LaRue and Ian Abarbanel, gave us a tour of their unique, private rooms and facilities. Not only it is a peaceful out-of-the-way location, it offers sessions in Aromatherapy, Aromassage, Reflexology and Hatha Yoga onsite, as well as kayaking and canoeing on the water only 12 minutes away. Learn more about the facilities in Jo's travel section, next.
Jo Hehnke
Dining at the deep end of the pool, what a wonderful experience! A must-do when visiting St Augustine, the pool was part of the Alcazar Hotel built by Henry Flagler and now functioning as the Lightner Museum with the Alcazar Cafe occupying the deep end of the now dry pool.
St Augustine, founded in 1565 by Don Pedro Menendez de Aviles, seemed the perfect place to take a break from a cold Colorado winter. We took a red-eye flight to Orlando and picked up a rental car, arriving at St Augustine's town square close to lunch time.
An employee at the St Augustine Visitor Information Center (10 Castillo Dr., St Augustine 32084, 800-653-2489), directed us to the Lightner Museum, a short walk away. Strolling the upper floors, we could hear piano music. We followed the sound to the ballroom and looking down saw several people seated at tables enjoying lunch. "How elegant – let's join them," we said.
Afterwards, a nap seemed in order so as to be refreshed for the evening Ghost Walk.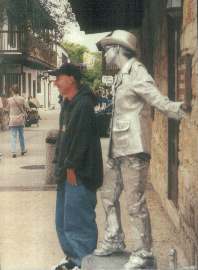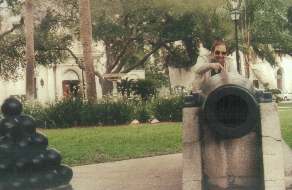 Saturday, we returned to the town square for a parade then over to the City Yacht Pier to catch the Victoria II for the Matanzas Bay Cruise to learn more of the history of the city and enjoy a great view of the skyline. Upon our return, we took a self-guided walking tour of Flagler College and St George Street.
The Grand Illumination took place that evening (the second weekend in December). We all gathered on St George Street, purchased candles, lit them, then marched to the town square led by people in period costume. After the march, we all joined in singing Christmas Carols.
Sunday, we drive across the Bridge of Lions to Anastasia Island, to visit the St Augustine Lighthouse and Museum. The tower is 165 feet tall with 219 stairs leading to the top, the view is well worth it. Returning to the city, our next stop was Castillo de San Marcos Fort built in the late seventeenth century for protection of the Spanish community. To our delight, a fife-and-drum corps, dressed in greatcoats, white overalls and tricorner hats marched into the fort and played several numbers.
The days are truly too short in St Augustine, all too soon it was time to depart for the drive back to Orlando to catch our flight.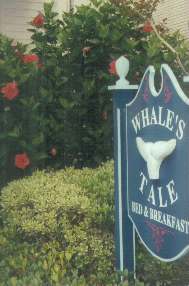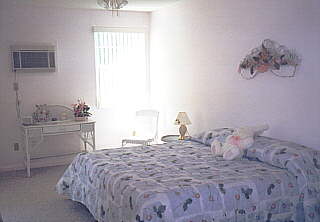 If you go to St Augustine, the options for places to stay are many. There are numerous bed and breakfasts, including the Whale's Tale located in the heart of downtown. If you would truly like to get away from it all, try Avalon, a country retreat, located a few miles from St Augustine offering special services and programs to "nurture your body, relax your mind and renew your spirit." The sanctuary hosts gardens, local fowl, some barnyard pets and an outdoor whirlpool. The vegetarian meals, including seasonal specialties from their organic garden, complete a warm and personalized experience for your stay at Avalon.
See you at the deep end on the pool!
Also see: The St. Augustine Record

Please forward this article to Friends and Associates
ONE-CLICK REGISTER for your FREE, monthly 21st Century Wellness eLetter summarizing New eJournal articles and eGuide Chapters

21st Century Wellness eLetter™ .. Complementary Healing eGuide™ .. Wellness eJournal™
CompWellness Network Members List .. Resources with Links .. Products .. CompWellness Home Page
Notices: Disclaimer, Copyright &copy 2012, Trade Names, Cross-Linkages, Acknowledgments, Terms and Conditions of Service, Additional Resources and Members
You are wise and generous to visit our Members and Sponsors <<< Click here or the following Sponsors:
Make your face fresh, young, strong, healthy & more beautiful every day .. Denver's Bio-Cranial/Chiropractic Leader .. Bio SuperFood Headquarters .. Save on Amazon's New & Used Consumer Products

Visitors since 5/1/1999.

*Our 1-302-586-8665 health information service is free for the first 5 minutes, then 99 cents per minute on major credit card*

Please report all errors to the CompWellness WebMaster. Thank you.