A Holistic Healing Association
Denver, Colorado | 1-302-586-8665* | Info@CompWellness.biz

Media: FOR IMMEDIATE RELEASE
All Others: For your Information and Forwarding to in-house or other editors and associates

Notes to Editors and Producers:
You may re-publish, with credits to the author and CompWellness Network, any of the articles in our printed journal

, our online Wellness eJournal, or our website, CompWellness.biz.
Our members stand ready to: answer your immediate questions, be interviewed, assist you in creating reports or clarify other reports.
Contact us at: our hotline, (303)880-3668, or directly access our Members List.

New CompWellness Journal Launched for Denver Metro
This release is located at www.CompWellness.biz/Journal/medrels.htm

LITTLETON CO - February 28, 2001 (updated 8/13/01) - "The Denver Metro region finally has a journal focusing on Wellness and mainstream Complementary Healthcare," announced Vickie T Eaton, Executive Director of the Denver-based educational-professional group Complementary Wellness,™ who publishes the new journal by the same name. He explained that the journal is one way to accomplish the group's "five-ex" objectives:
Explore Complementary Healthcare, sometimes referred to as Complementary and Alternative Medicine (CAM), which includes: Acupuncture, Chiropractic, Fitness Therapies, Massage Therapies, Naturopathy, and the holistic forms of conventional practices - Animal Care, Medicine, Nutrition, Nursing, Physical Therapy and Vision Care.
Examine the four major components of Wellness: Fitness, Nutrition, Attitude and Professional Healthcare (for recovery, improvement and prevention).
Experience, through stories and ads: Complementary Healthcare practitioners and businesses.
Expand understanding, with a calendar of: lectures, demonstrations, health fairs and other events.
Extend by reference to other resources: associations, schools, websites, books and the mass media.
"Up to this point, Denver Metro 'alternative' health journals, newsletters and websites have covered every type of alternative medicine under the sun - Astrology to Zen," continued Johnson. "This is fine for those already comfortable with a wide range of Complementary Healthcare modalities, but does not generally motivate people and organizations only using conventional practices and products to expand their horizons into other forms of healthcare. Our mission is to facilitate Wellness, by facilitating the use of a full complement of healthcare modalities, working with conventional medicine, not replacing it."

CompWellness journal

The CompWellness journal provides the first steps into the world of wider-spectrum Complementary Healthcare and Wellness. It is found in most healthfood stores - Wild Oats, Vitamin Cottage and independents - as well as local bookstores and selected "Community Information Racks," "Franklin InfoRax," restaurants, coffee shops, and Member practitioners and businesses. It has also been sent to all Metro-area public libraries. See a complete list at Journal Distribution Locations at CompelementaryWellness.org.

Currently, the booklet-sized journal is organized into four sections, to be pulled apart if the reader desires: the main section, a theme section (this issue is the Attitude component of Wellness), additional articles and the Member Practitioner and Business Directory. The reader can then file or circulate the sections separately without having to copy or cut out articles. The Directory may also be tucked into the group's previous publications of the same page size, the Denver Metro or the Boulder County Complementary Healing Guide.

More Information: Advertising Rates .. Distribution Locations .. Other Communications .. CWPA

Business Note: the journal is printed on Xerox/Tektronix Phaser 850 solid-ink, full-color, letter-size printers donated by Xerox. This technology allows full-color, two-sided printing at very reasonable cost, especially since Xerox provides the black ink at no charge. For the small organization, it makes short-run, full-color booklets, brochures, letterhead, cards, flyers and other business materials much more feasible as well as makes just-in-time publishing a reality. CALL FOR A REFERRAL TO OBTAIN YOUR OWN PHASER PRINTER

Layout

(Click picture for denser version - 700Kb)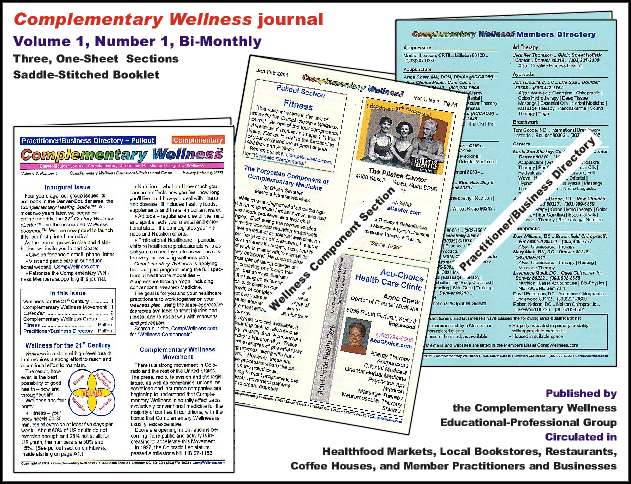 Click picture for denser version - 700Kb
See Additional Information about the CompWellness Network
###

Back to Top

Home | eGuide | eJournal | eLetter | Members List | Resources | Communications | Products | About Us | Membership | Member Info Ctr
Notices: Disclaimer, Copyright, Trade Names, Cross-Linkages, Acknowledgments, Terms and Conditions of Service, Additional Resources and Members.

You are wise and generous to visit our Members and Sponsors <<< Click here or the following Sponsors:
Make your face fresh, young, strong, healthy & more beautiful every day .. Denver's Bio-Cranial/Chiropractic Leader .. Bio SuperFood Headquarters .. Save on Amazon's New & Used Consumer Products

Visitors since 5/1/1999.

*Our 1-302-586-8665 health information service is free for the first 5 minutes, then 99 cents per minute on major credit card*

Please report all errors to the CompWellness WebMaster. Thank you.